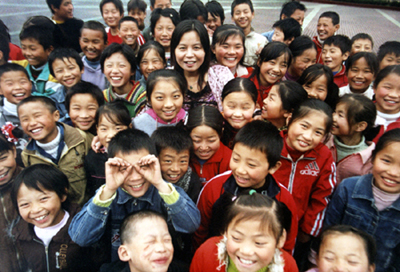 Before becoming the director of AOS, Zhang Ying was a successful businesswoman. She was well on her way to building a stable career in business. Upon meeting the first child with HIV/AIDS, and later meeting more and more children in need, she gave up her business in order to support the growing amount of children that looked to her for help.
As a Fuyang local with an in depth understanding of the local culture and community needs, Zhang Ying was the most qualified person to successfully operate a grassroots NGO. As a former entrepreneur, Zhang Ying maintained connections with people from all walks of life, and used her connections to gain domestic support for AOS.
Since of the founding of the Fuyang AIDS Orphan Salvation Association, Zhang Ying has received numerous awards for her dedication to children and families affected by HIV/AIDS. Some of the awards that she received are: "The Chinese National Society on Public Welfare Award" in 2005, also in 2005 she was named "One of the Most Influential People in China." In 2006, she won the "China Annual Yugong Award" and also the "The 11th Youth May 4th Award." In 2007 she was given "The Fuyang City Public Welfare Award."
As AOS continues to grow, and as Zhang Ying struggles to work harder to keep up with the growing demands of the children and their families, her dedication continues to be acknowledged by the local community and society. The success of AOS in a short period of time shows that Zhang Ying was able to develop a model of community-based care that is ground breaking in its methods of supporting the multidimensional needs of children affected by HIV/AIDS.
A meeting of two worlds: How Zhang Ying began grassroots HIV/AIDS work

Zhang Ying remembered that afternoon was especially cold. She was sent by the mayor of Fuyang to accompany two professors - one American and one Chinese - to investigate the situation of AIDS in the Fuyang area and to visit orphanages on behalf of a US-based charitable foundation. Over the course of that day, Zhang Ying and the professors traveled to two orphanages, and to homes of children affected by HIV/AIDS. For the first time, Zhang Ying saw first-hand the bleak situations of children who were born into lives of misfortune and crushed by poverty.
When traveling through an AIDS-affected village on that particularly cold afternoon, the group met a young girl who had AIDS. Zhang Ying was specifically struck by the physical appearance of that little girl. She recalls that "the young girl's hair was a mess, her face was covered with blisters, and a liquid oozed out of her ears. When I called out to her, she could not hear me. "
The young girl's name was Ren Nan. At the time, when Zhang Ying first saw her, Nan Nan (her nickname) had full blown AIDS, couldn't hear out of one ear, and had a rash which left stains of dried blood over her arms and legs. Nan Nan's parents had been poor and sold blood as a way to earn some extra income for the family.
The plight of children like Nan Nan who Zhang Ying saw over the course of that fateful day remained with her. Zhang Ying left the village that night not knowing that the children- Nan Nan in particular- would be a part of her ineluctable future.