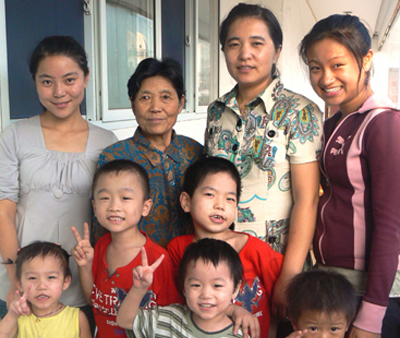 I first heard of AOS during my sophomore year at Stanford University. I was designing a curriculum about HIV/AIDS for North American high school students, and realized I knew much more about the epidemic in Africa-I had spent a summer in rural Tanzania as a volunteer HIV/AIDS educator-than in Asia. I knew astonishingly little about HIV/AIDS in China, though I still bore my Chinese name from before I immigrated to the U.S. Through my research, I was astonished to read about the blood-selling scheme that led, sadly, to a proliferation of HIV/AIDS in China. I read about the documentary film "The Blood of Yingzhou District," which had brought global media attention to this issue. Ironically, I didn't watch the film until nearly two years later, streaming it online from my laptop in a hotel room in Fuyang, China, the city close to the rural villages where much of the documentary was filmed.
My extraordinary and eye-opening visit to AOS, like many of the most meaningful events in life, was made possible by a series of synchronicities. During my junior year, the boss of my high school curriculum-writing program emailed me to ask if I would be willing to meet with a delegation of three Chinese leaders of NGOs focused on stigmatized diseases including HIV/AIDS and hepatitis. I remember being quite busy that week, and nearly refused the offer. Fortunately, I found myself sitting at a long table at our university's international center on a sunny Friday morning, absorbing the incredible stories of these NGO leaders that no academic essay or magazine article could convey. When I related the story to my close friends, it was Director Zhang of AOS who stood out in my narrative. I was deeply moved by her dedication to the HIV+ positive children her NGO served and incredibly impressed by the dramatic growth her NGO had experienced. Before she left, I found, to my surprise, that I was grasping her hand warmly, conveying my heartfelt wishes to visit Fuyang. She squeezed my hand tightly in return and offered an open invitation.
As luck would have it, I decided to shorten my summer fieldwork in South Africa the summer before my senior year. With the extra three weeks, I could think of no better option than to visit AOS-I was already going to Shanghai to visit relatives, after all.
My three weeks in Fuyang were nothing like the times I've spent in coastal areas of China. I was able to witness firsthand the truth that rural areas are poorer than urban ones. I found myself disturbed by the lack of quality education in rural areas, and relieved that AOS was at least educating students in these areas about HIV/AIDS in order to reduce stigma about the disease. I was touched by the tireless efforts of the NGO staff in coordinating activities for HIV-affected children, and ensuring that the HIV-infected children at the orphanage were cared for. It was a blessing to simply listen, observe, and engage in the lives of these children, offering humbly what help I could. AOS had granted me an extraordinary opportunity; I wish I could do more to help the organization, but also recognized that long-term staff, not short-term volunteers, ultimately have the greatest impact. That AOS welcomes short-term volunteers is testament to the NGOs commitment to providing educational opportunities for youth, that more people may become educated ambassadors in the fight against HIV/AIDS.
When I returned to the U.S, I looked at the photos of the five children from the orphanage who had lit up my days with their joyous smiles and mischievous antics. I immediately burst into tears. The memory of my time with AOS is indelibly carved into my heart, deeper than words can convey. I hold a deep admiration for the work of this courageous NGO in helping children who otherwise would not be educated-perhaps would not even be alive-were it not for the help of AOS. After visiting AOS, I realize that I can no longer sit on the sidelines. Compelled by compassion, we must all do our parts to contribute to social justice, in our own communities and globally.