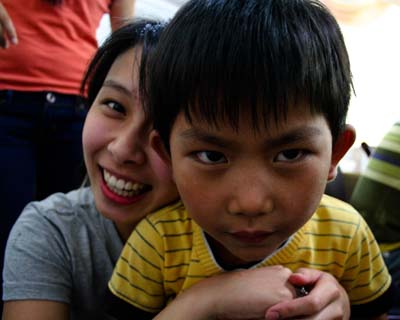 The first time I went to AOS, I only visited for a couple days. I remember that all of the staff, parents and children were welcoming and were interested in who I was and how I came to be in this modest-sized town of Fuyang. Through my professor's connections and my own developing interest, I returned a second time nearly a year later, and stayed for three weeks. I collaborated with a group of volunteers that came from the University of Michigan to orchestrate activities for the children at AOS' community center. We drew cartoons, folded origami, sang songs and exchanged experiences. I, as a privileged American student who grew up in a city, had much to learn from these rural Chinese children touched by AIDS.
I have never lost a family member due to complications from AIDS. I have never had a loved one diagnosed with AIDS or HIV, nor do I have AIDS because a parent transmitted it to me. AIDS affected all the children I worked with in one way or another. I heard their stories through their families and AOS staff but the children showed me their resilience. They were often laughing, playing and being silly. AOS serves as a place of support and community. They help disseminate AIDS prevention methods in order to increase awareness and quell people's fears and assumptions of this "disease" that they've heard of.
I developed meaningful relationships with the people I met through AOS, not just with the staff, but also the volunteers and kids as well. Though we are all from different places, we came together and created what we saw as a positive space. I think one of the most rewarding and pragmatic realizations that came to me through all of my internship and volunteer experience was through my brief stint with AOS: However simple it may be, this work is not easy. AOS is trying to solve many problems, including providing proper medication for individuals living with AIDS, generating awareness and education about HIV/AIDS, creating and sustaining a welcoming environment, and finding the donors necessary to keep an NGO afloat. People are striving for the same goals, sharing the same hopes, and working together to find ways to better the lives of the those they are trying to help.