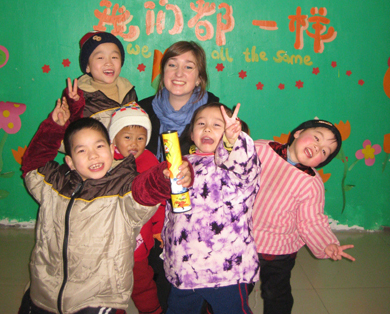 Sheradyn Jeannette Simmonds is a student studying for her Bachlor of Arts (International Studies) at RMIT University, Melbourne, Australia. She was a month long intern at AOS and here are some of her thoughts....
I was fortunate to spend four weeks with AOS as an intern/volunteer and I can honestly say that it was an unforgettable, amazing experience and that I will cherish forever. Upon arrival I wasn't too sure what to expect, but soon I was welcomed with open arms by Director Zhang Ying and my fellow coworkers. During my time with AOS I visited many children in Anhui Province who had been orphaned by AIDS. AOS is doing some truly amazing work with a largely ostracized community, often forgotten by society and left with no where to go.
I soon fell in love with the five orphans under full-time care with AOS. Having lost both parents, AOS provides them with all their daily necessities, including education, food and, importantly, love. I absolutely loved visiting them on a daily basis while helping them to learn English, sing songs and study Chinese. More often than not, their written and spoken Chinese was a lot better than mine and they actually helped me with learning Mandarin! It was as equally eye-opening to visit rural villages surrounding Fuyang in order to help with regular health checkups and housing assessments.
I hope to return to Fuyang as soon as possible to see how the children have grown and to help with the great work that AOS is continuing to achieve!