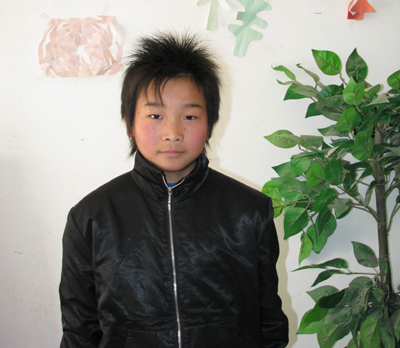 My name is Zhang Ajun, I am thirteen years old. I am living in Fuyang. My parents were died of AIDS. I am alone with my older brother. I used to live with my uncle family or my grandmother family. At that time, I was very sad, special I heart of the thing about my parents, I can't help but tear. I can't see my future. I also did not have any friends.
The director Zhang Ying of Fuyang AIDS Orphan Salvation Association (AOS) helps me survive and keep hope. She gives me living stipend and school fee. She also organizes "Saturday Gatherings" for children like me. She encourages me in everything. I like drawing, there are some college students to teach me on how to grasp the drawing skills. I always attend "Saturday Gatherings", I am very happy in the "Saturday Gatherings", because I could not only learn knowledge, but have many friends as well there. There are many other children, they don't discriminate me, I enjoy a wonderful environment there. Although I lost my parents, there are many people care for me, I am not alone. I get warm out of the life.
I want to have a good job and a entirely family. I will do my best to study, and to be a doctor. I hope there are no people suffer from AIDS in the future. I want to change the poor's life by my future work.