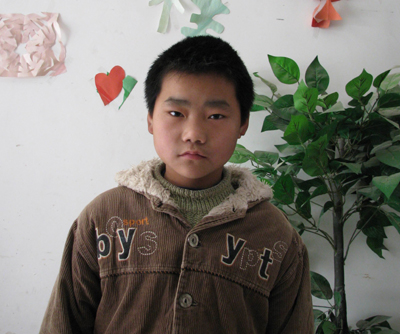 My name is Zou Lele, I am thirteen years old this year. My parents died of AIDS several years ago, I am living in Fuyang with my uncle and aunt. My uncle and aunt are farmers, in their small house, there are two other children who are my siblings. My uncle is a HIV-infected people, he need many money to cure his illness. My aunt did not find any job because of her low level of education and training. The new family is very poor. At that time, I was very sad.
God sent the angel to help me. I met Zhang Ying who is the director of Fuyang AIDS Orphan Salvation Association (AOS). She provides living stipends and school fee for me. I could continue to stay in school. I also have many friends in school. I go to school and help to do some housework for my aunt every day. Each weekend, I go to the activity center and attend "Saturday Gatherings". I could learn music from the college student here. I love singing the song because it is so special and I also could express my feelings by it. Mother Zhang Ying encourages me in everything. I attended the song contest and won the prize. She took me to Beijing, Shanghai, Hongkong etc to visit some famous places. I got many knowledge from these trips. I get warm and care out of the life.
I plan to study medicine and to be a doctor in the future. I could provide help for other people who live in the poverty. I hope that there are no people suffer from AIDS, AIDS will be eliminate in the future.