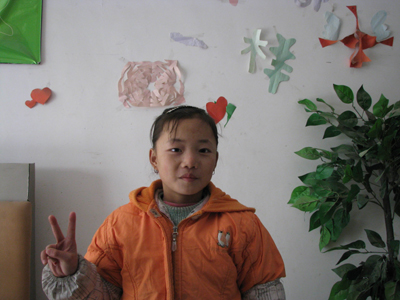 My name is Zhang Yun, I am twelve years old this year. I live in Fuyang with my parents, sister and brother. My mother is a HIV-infected people, main income of family was spent on her illness. My father didn't find any job because his low level of education. So my sister and brother have to drop out of school, they didn't find any job because they have not any life skills. Although I still stay in school, I have no any money to buy books and stationary. I was so depress at that time.
But I was not discarded, the director Zhang Ying of Fuyang AIDS Orphan Salvation Association (AOS) visited my family. She helped my sister and brother with renewing to enter vocational school. And gave us living stipend and clothes. I was very happy when I wore the new clothes in the first. From that time, Mother Zhang Ying continue to support my family. By continuing education, my sister and brother grasped life skills and then to enter the labor market. At present, they are working at the big firm in the city and have a high salary. My family situation is gradually improved. The smile usually appear on my mother's face, that smile I have never seen on her face.
I am satisfy for my present life. I like study and have a good school report. I also have many friends in school. I could attend "Saturday Gatherings" and learn some cultural knowledge. I get care out of the society, and I will do my best to study and then help other children like me. I hope that there is not AIDS in the world, and all the parent could enjoy happiness with their children.