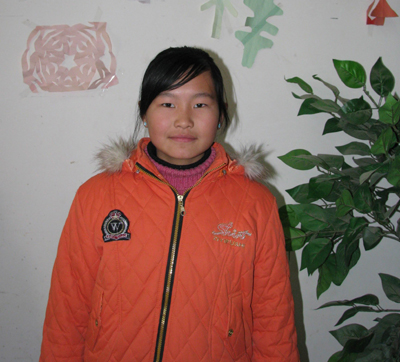 My name is Tian Mei, and I am thirteen years old this year. I live in Fuyang with my mother and younger brother. I was very sad when my father died of AIDS. My mother have to count on herselfe to raise my brother and me. But she didn't find any job because of her low level of education and training. My family was so poor, I could not spend any money on my study. I also was alone because I have no friends.
But I am so lucky and is not discarded, director Zhang Ying of Fuyang AIDS Orphan Salvation Association(AOS) helps me with life and study. She gives me living stipend and clothes and organizes "Happy Weekend Party" for all the children like me. We could learn music, drawing, games etc there. I like drawing, so I enter drawing class and learn on how to picture from the college student. Except this, the college student taught me cultural knowledge. Mother Zhang Ying took me to attend the Beijing Summer Camp and visited the Great Wall, Zoo, the Summer Palace etc famous places.
With the help of mother Zhang Ying, I could continue to stay in school and I also made some friends. I made many drawing, mother Zhang Ying help me to make these drawing into postcard. And then I sent these postcards to my friends or other kind people.
I am very happy for my present life. Mother Zhang Ying gives me everything that my lost. She helps me keep hope. I will do my best to picture my future. I dream of being a artists in the future, I will picture all beautiful things and landscape. I get warm and happiness out of the society, in return for this, I will give other people warm and happiness.